Eric Johnson : Net Worth, Family, Wife, Education, Children, Age, Biography and Political Career
Eric Johnson is us Mayor of Dallas, Texas since 2019 know all about him in this article as like his Family, Net Worth, Parents, Wife, Children , Education and Career Earnings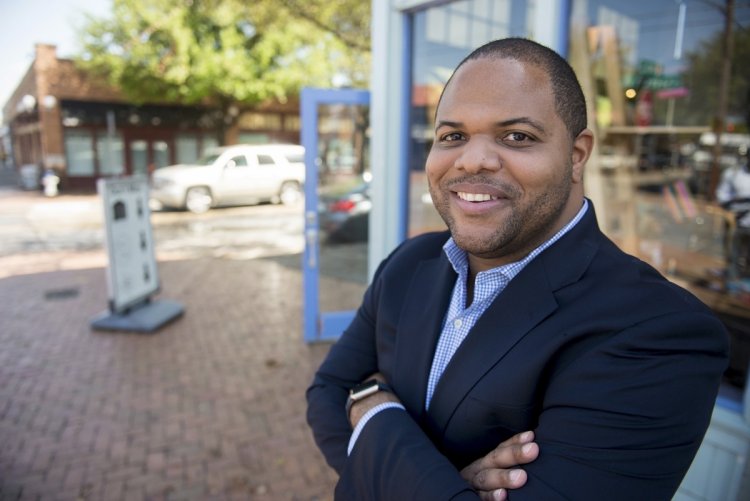 Eric Johnson
Quick Facts

Name

Eric Johnson

Category

Mayor

Birthday

October 10, 1975

Spouse

Nikki

Education

Harvard University (BA)
University of Pennsylvania (JD)
Princeton University (MPA)

Country / Nationality

United States

State / Province

Texas

Party

Democratic

Net Worth

$ 1 to 5 Million
Eric Lynn Johnson is an American politician and attorney who has served as the 60th Mayor of Dallas, Texas since 2019. He previously served as a Democratic member of the Texas House of Representatives, where he represented District 100 in the cities of Dallas and Mesquite, Texas.
Eric Johnson Net Worth
Eric Johnson Net Worth is $ 1 to 5 Million in 2021.
Eric Johnson Wife and Children
Mayor Johnson lives in Dallas with his wife, Nikki, their three children, William, George, and Lela, and their dog, Penny.
Eric Johnson Career and Achievement
Law Career
Johnson was admitted to the State Bar of Texas in November 2003. He previously served Of Counsel to Andrews Kurth Kenyon and Orrick, Herrington & Sutcliffe in Dallas, Texas. He is currently a partner with the international law firm of Locke Lord LLP.
Community Involvement
In 2009, Johnson launched West Dallas C.A.M.P. (Community Ambassador Mentoring Program), a partnership between C.F. Carr Elementary School, Big Brothers Big Sisters, and People Empowerment Project that provides fourth grade students with one-on-one and group mentoring for success both in and out of the classroom.
In addition to his volunteer work in DISD schools, Johnson has served on the boards of several important organizations in the Dallas community. He was a member of the Board of Directors of the Boys & Girls Clubs of Greater Dallas (the first Boys & Girls Club of Greater Dallas alumnus ever to serve in that capacity), where he formed an alumni organization for local Boys & Girls Club alumni to mentor and support current Boys & Girls Club members, as well as the Board of Directors of the Martin Luther King, Jr. Community Center in South Dallas. He has also served on the boards of Educational Opportunities, Inc., an organization that provides scholarships to academically talented but economically disadvantaged DISD students, the Metro Dallas Homeless Alliance, which is responsible for operating "The Bridge" (the City of Dallas' homeless assistance center), and the West Dallas Chamber of Commerce.
Johnson is currently a member of the Board of Directors of the Dallas Arboretum, the West Dallas-based Voice of Hope Ministries, the Oak Cliff Chamber of Commerce, the Southwestern Medical Foundation, and the Annette Caldwell Simmons School of Education and Human Development at Southern Methodist University. He is also a member of The Dallas Assembly, the Leadership Dallas Alumni Association (Class of 2006), and the Dallas Alumni Chapter of the Kappa Alpha Psi fraternity.
Texas Legislature
Johnson was sworn in as a member of the Texas House of Representatives on April 20, 2010, filling the vacant seat that he won in a special election. He was reelected, after running uncontested, in the November elections of 2010 and 2012. He also won reelection in 2014, 2016, and 2018.
Johnson founded, and served as the chairman of, the Young Texans Legislative Caucus (YTLC), which focuses on transportation, education, water, infrastructure, and other issues of interest to younger Texans. YTLC is open to Texas state representatives who are either under the age of 40 or represent a district that has a population under 40 that is greater than the state average of 58%. He is also the vice chairman of both the House Natural Resources Committee and the House General Investigating and Ethics Committee, and was the only member of the 83rd Texas Legislature to serve as vice chairman of two standing house committees. Johnson also serves on the House Elections Committee, the House Select Committee on Transparency in State Agency Operations, and the Joint House and Senate Committee on Higher Education Governance, Excellence and Transparency. He has previously served on the House Committees on Appropriations, Higher Education, and the Interim Committee on Manufacturing.
Johnson has authored legislation that ensures that vacancies in the Texas Legislature are filled in a timely manner, requires Texas courts to inform defendants being sentenced to deferred adjudication of their right to an order of nondisclosure, enables the Dallas Independent School District to implement a pilot program that allows some students to graduate in three years, and that adds public and private institutions of higher education to the list of places where reporting a false bomb threat is a state jail felony. In addition, he was a joint author of the landmark water legislation passed during the 83rd Texas Legislature, House Bill 4, that will fund the State Water Plan. Upon becoming Mayor of Dallas, Johnson vacated House District 100 seat, and his successor will be determined in a special election.
After the 82nd Texas Legislature, Johnson was selected to participate in the Emerging Leaders Program by the State Legislative Leaders Foundation. Johnson has been awarded the Achievement Award from the Public Policy and International Affairs Fellowship Program, the Dallas Regional Chamber's first ever "Courage in Public Service Award" for his work in the field of higher education, and was named one of the Texas Junior Chamber of Commerce's "Five Outstanding Young Texans."
In the 86th legislature, it was found that Johnson missed 62% of votes, the highest of any legislator during this session, after having filed motions so the House can excuse, with or without a reason, him for the day's business.
Mayor of Dallas
On June 8, 2019, Johnson was elected Mayor of Dallas, defeating his opponent, city councilman Scott Griggs, in a runoff election. It was announced that he would take office on June 17, 2019. With his election, Johnson became the second African American mayor to be elected in Dallas history (the first being Ron Kirk) and one of the youngest mayors of a major American city. He was sworn in as Mayor on June 17, 2019 by U.S. District Court Judge Sam Lindsay.
In August, it was announced Johnson took a job as a partner at Locke Lord. In September 2019, Johnson sent the Dallas City Council an open letter notifying them of plans by Interim CEO Sam Coats of Visit Dallas to eliminate Board seats allotted for the City.
Early in his term, Johnson also dealt with an EF-3 tornado in Dallas and pushed for federal assistance.
Johnson oversaw a budget that passed unanimously in 2019. But as budget season at City Hall started in 2020, Johnson began pushing an initiative to "defund the bureaucracy," a play on the Defund the Police slogan. His proposals were rejected twice by the Dallas City Council. The rationale given by the mayor was since private sector employees were "feeling the pain" due to COVID-19 restrictions then public sector employees should as well. The first time Johnson brought up his proposals to "defund the bureaucracy," members of the Dallas City Council rejected it by a 13-1 margin. In September 2020, Johnson, who had vowed to take his plan to the public, published a message opposing police overtime cuts on NextDoor, which political opponents decried as inappropriate and attempted to brand as illicit. The Dallas City Council again rejected the "defund the bureaucracy" bid in a subsequent meeting and voted to cut the proposed police overtime budget by 25% over the mayor's objection.
Johnson did win support in the budget for nearly $4.5 million in funding for his Task Force on Safe Communities recommendations. He formed the task force after the death of Brandoniya Bennett, a 9-year-old girl who was killed in her own home by errant gunfire meant for someone else. The task force made four recommendations for fighting violent crime without law enforcement.
In 2020, Johnson launched Dallas Works, a summer jobs program for Dallas youth. The program was modeled on other cities that had far more robust summer jobs programs than Dallas.