Gretchen Whitmer Net Worth, Family, Parents, Husband, Education, Children, Age, Biography, Political Career
Gretchen Whitmer is us governor of Michigan since 2019 know all about Gretchen Whitmer Net Worth, Family, Husband, Education, Children, Age, Biography, Political Career.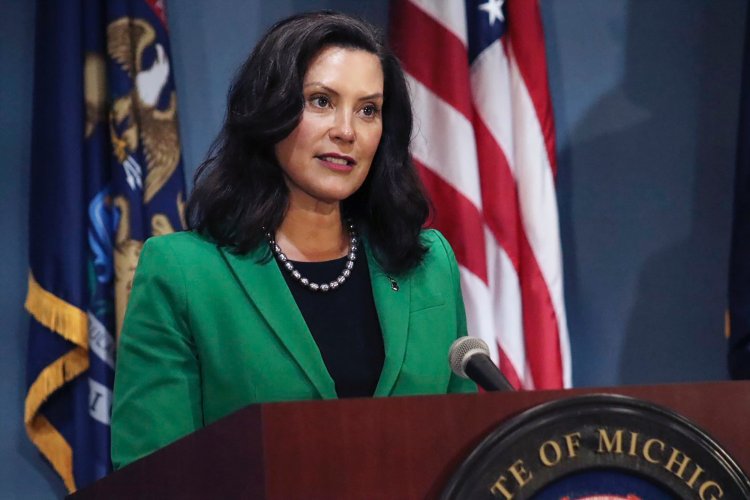 Gretchen Whitmer
Gretchen Whitmer Biography
Name
Gretchen Whitmer
Category
Governor
Birthday
1971-08-23
Spouse
Gary Shrewsbury ​(divorced)​
Marc P. Mallory ​(m. 2011)​
Education
Michigan State University (BA, JD)
Country / Nationality
United States
State / Province
Michigan
Party
Democratic
Net Worth
$1 Million – $2 Million
Gretchen Esther Whitmer is an American lawyer and politician serving as the 49th governor of Michigan since 2019. A member of the Democratic Party, she served in the Michigan House of Representatives from 2001 to 2006 and in the Michigan Senate from 2006 to 2015.
Whitmer was born and raised in Michigan. She is a graduate of Forest Hills Central High School near Grand Rapids, Michigan State University, and the Michigan State University College of Law. She ran unsuccessfully for the state house in the 1990s before being elected in 2000. In 2006, she became a state senator, a position she kept until term limits forced her to step down in 2015. She was the Senates first female Democratic leader from 2011 to 2015. In 2013, Whitmer gained national attention for a floor speech during a debate on abortion in which she shared her experience of being sexually assaulted. For six months in 2016, she was the county prosecutor for Ingham County.
Whitmer was elected governor in the 2018 gubernatorial election, defeating Republican Attorney General Bill Schuette. As governor, Whitmer has focused on healthcare and infrastructure. In February 2020, she was selected to give the Democratic response to President Donald Trumps 2020 State of the Union Address. On October 8, 2020, the Federal Bureau of Investigation thwarted a militia groups kidnapping plot against her. Since January 2021, Whitmer has served as one of the vice chairs of the Democratic National Committee.
After graduation from Forest Hills Central High School, just outside Grand Rapids, Whitmer earned a BA degree in communications from Michigan State University in 1993 and a Juris Doctor from Detroit College of Law at Michigan State University in 1998.
Gretchen Whitmer Net Worth, Income Source and Salary
Gretchen Whitmer's net worth is estimated to be between $1 million and $2 million in 2022. She makes a good living through her hard work, which she devotes a lot of time to and where she completely presents herself.
We will talk about her salary, income, and career earnings in this section. Her profession provides her with a comfortable living. She has amassed enough wealth to live a lavish and comfortable lifestyle with her family members thanks to her various sources of income.
| | |
| --- | --- |
| NAME | GRETCHEN WHITMER |
| Net Worth | $1 Million – $2 Million |
| Income Source | American lawyer and politician serving as the 49th governor of Michigan |
| Yearly Salary / Income | Under Review |
| Monthly Salary / Income | Under Review |
| Last Update | 2022 |
Gretchen Whitmer Family, Parents
Gretchen Whitmer was born on August 23, 1971, in Lansing, Michigan, the eldest of three children of Sharon H. "Sherry" Reisig and Richard Whitmer, both attorneys. Her father was head of the state department of commerce under Governor William Milliken and was the president and CEO of Blue Cross Blue Shield of Michigan between 1988 and 2006. Whitmers mother worked as an assistant attorney general under Michigan Attorney General Frank Kelley. Her parents divorced when she was ten years old. she and her siblings moved with their mother to Grand Rapids. Her father traveled from his home in Detroit to visit the family at least once a week.
| | |
| --- | --- |
| Father Name | Richard Whitmer |
| Mother Name | Sherry Whitmer |
| Siblings | Not Known |
Gretchen Whitmer Husband, Children
Whitmer has two children with her first husband, Gary Shrewsbury. The couple divorced and in 2011, she married dentist Marc P. Mallory, who has three children from his previous marriage. Whitmer and Mallory live in East Lansing, Michigan, with her two daughters and his three sons.
| | |
| --- | --- |
| Marital Status | Married |
| Spouse / Partner | Dr. Marc Mallory (m. 2011) |
| Children | Two Daughters and Three Sons |
Gretchen Whitmer Ethnicity, Nationality and Religion
| | |
| --- | --- |
| NATIONALITY | AMERICAN |
| Ethnicity | Not Known |
| Religion | Christianity |
| Zodiac Sign | Not Known |
Gretchen Whitmer Career and Achievement
State Legislature
House of Representatives
Whitmer originally ran for the Michigan House of Representatives in the 1990s but was unsuccessful. In 2000, she tried again and was elected to represent the 23rd legislative district. She was reelected in 2002 and 2004.
State Senate
In March 2006, Whitmer won a special election to the Michigan State Senate, replacing Virg Bernero, who had been elected mayor of Lansing in November 2005. She was elected to a full term in November, and reelected in 2010. In 2011, Whitmers Democratic colleagues unanimously chose her to be the Senate Democratic Leader, making her the first woman to lead a party caucus in the Senate. Due to term limits, Whitmer was unable to run for reelection in 2014 and left office in 2015. In 2013, she received national recognition when she discussed her experience of being sexually assaulted. She told the story during a debate about abortion rights, particularly for victims of rape, arguing victims should be allowed to terminate pregnancies that result from rape.
Ingham County Prosecutor
On May 11, 2016, it was announced that the judges of Michigans 30th Judicial Circuit Court had unanimously selected Whitmer to serve the remaining six months of outgoing Ingham County Prosecutor Stuart Dunnings IIIs term after he was arrested on March 14, 2016, and charged with 11 counts of involvement with a prostitute and four counts of willful neglect of duty. In a letter dated March 29, 2016, Dunnings announced he would resign effective July 2.
On June 21, 2016, Whitmer was administered the oath of office as prosecutor by Ingham County Circuit Court Chief Judge Janelle Lawless. She said her top priorities during her six months of service would be to determine if any other officials in the prosecutors office knew about Dunningss alleged crimes and to change how the office handled domestic violence and sexual assault cases.
On July 22, 2016, Whitmer issued an 11-page report on whether Dunningss alleged criminal activity had affected cases handled by the office. The report concluded that employees "were never asked to compromise a case or look the other way" and that she had "full confidence that any problem that had existed in this office left with Mr. Dunnings." Whitmers term expired on December 31, 2016.
Governorship
2018 Election
On January 3, 2017, Whitmer announced she would run in the 2018 Michigan gubernatorial race.
On August 7, 2018, Whitmer became the Democratic nominee for governor of Michigan. She won all 83 counties in the state in the Democratic primary.
In July 2018, Republican officials accused Whitmer of supporting the movement to abolish ICE, a claim Whitmer disputed. She said that if elected she would focus on improving Michigans "fundamentals", such as schools, roads, and water systems.
Whitmers main opponent was Republican Bill Schuette, the term-limited attorney general of Michigan. The two candidates met for a debate on October 12, 2018, in Grand Rapids at WOOD-TV. A second debate was held at WDIV studios in Detroit on October 24.
Whitmer defeated Schuette in the November 6 election by nearly a 10-point margin.
Read Also : About Rishi Sunak