Muriel Bowser : Net Worth, Family, Husband, Partner, Education, Children, Age, Biography and Political Career
Muriel Bowser is us mayor of the District of Columbia since 2015 know all about him in this article as like his Family, Net Worth, Parents, Husband, Children , Education and Career Earnings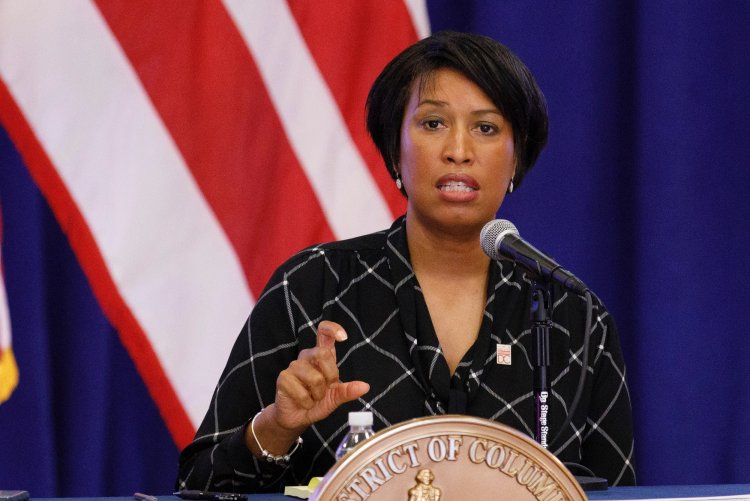 Muriel Bowser
Quick Facts

Name

Muriel Bowser

Category

Mayor

Birthday

August 2, 1972

Spouse

NA

Education

Chatham University (BA)
American University (MPP)

Country / Nationality

United States

State / Province

District of Columbia

Party

Democratic

Net Worth

$ 1 to 5 Million
Muriel Elizabeth Bowser is an American politician serving since 2015 as the eighth mayor of the District of Columbia. A member of the Democratic Party, she previously represented Ward 4 as a member of the Council of the District of Columbia from 2007 to 2015. She is the second female mayor of the District of Columbia after Sharon Pratt, and the first woman to be reelected to that position.
Elected to the Advisory Neighborhood Commission in 2004, Bowser was elected to the council in a special election in 2007, to succeed Adrian Fenty, who had been elected Mayor. She was reelected in 2008 and 2012 and ran for mayor in the 2014 election. She defeated incumbent mayor Vincent C. Gray in the Democratic primary and won the general election against three Independent and two minor party candidates with 55% of the vote. In 2018, she won a second term with 76% of the vote.
Muriel Bowser Net Worth
Muriel Bowser Net Worth is $ 1 to 5 Million in 2021.
Muriel Bowser Family
The youngest of six children of Joe and Joan Bowser, Bowser was born in Washington, and grew up in North Michigan Park in northeast D.C. Bowser's eldest sister, Mercia, died of COVID-19 on February 24, 2021. Mayor Bowser wrote, "Mercia was loved immensely and will be missed greatly, as she joins the legion of angels who have gone home too soon due to the pandemic.
Muriel Bowser Husband and Children
Bowser has never married. In May 2018, she announced that she had adopted a baby whom she named Miranda Elizabeth Bowser.
Muriel Bowser Career and Achievement
Political Career 2004–2014
Advisory Neighborhood Commission
Bowser began her political career in 2004, running unopposed for the Advisory Neighborhood Commission (ANC). She represented district 4B09, which includes the neighborhood of Riggs Park. She was unopposed again in 2006 when she ran for re-election.
Council of the District of Columbia
2007 Election
Adrian Fenty, Member of the Council of the District of Columbia representing Ward 4, ran for Mayor of the District of Columbia. Bowser was his campaign coordinator for Ward 4. When Fenty was elected mayor in 2006, a special election was called to fill his council seat. Bowser, among many others, announced her candidacy for it.
During a political forum with 17 of the 19 council candidates in attendance, Bowser was the only candidate present who supported Fenty's proposed takeover of the District public school system, saying that the school system needed to change.
When Fenty announced his support of Bowser, some critics claimed that, if elected, she would always vote as Fenty wished, ignoring the needs of her constituents.
Other critics took note of developers who had contributed to Bowser's campaign, claiming she would favor developers over her constituents. While an ANC commissioner, Bowser had voted in favor of a zoning variance for a condominium development to be built by a developer who had contributed several hundred dollars to her campaign, which some critics derided as a conflict of interest. Bowser maintained that she had supported the development project before running for Council.
The editorial page of The Washington Post favored Bowser in the election. The local councils of the AFL-CIO, Service Employees International Union, and the Fraternal Order of Police also endorsed Bowser in the election, but the American Federation of State, County and Municipal Employees endorsed her opponent, Michael A. Brown.
Bowser won the special election with 40% of the vote.
2008 Election
In 2008, Bowser announced her reelection campaign for the council. Three individuals ran against her in the Democratic primary, namely: Baruti Akil Jahi, former president of the Shepherd Park Citizens Association, Malik Mendenhall-Johnson, then serving as Advisory Neighborhood Commissioner of 4B04 and Paul E. Montague, who had been Advisory Neighborhood Commissioner of 4B07 before being recalled in 2004. Both Jahi and Mendenhall-Johnson criticized Bowser, saying she was a rubber stamp for Mayor Fenty and that she was unconcerned with her constituents' needs.
No candidates' names were on the ballot for the Republican or D.C. Statehood Green primaries.
The Washington Post's editorial department endorsed Bowser's candidacy. The Gertrude Stein Democratic Club also voted to endorse Bowser's reelection.
Bowser won the Democratic Party primary election, receiving 75 percent of votes. Jahi received 19%, Montague received 3% and Mendenhall-Johnson received 2%. With no one else appearing on the subsequent general election ballot, Bowser won the general election with 97 percent of the vote.
In 2011, Bowser was appointed to the Washington Metropolitan Area Transportation Authority board of governors, a position she held until 2015.
2012 Election
Bowser ran for reelection in 2012. Bowser said she would not turn down donations from corporations. Candidate Max Skolnik criticized Bowser for receiving campaign contributions from developers, corporate bundlers, and lobbyists, saying that Bowser would favor the interests of these corporate donors. Bowser said she was not in favor of banning corporations from making political donations altogether, saying that doing so would make it more difficult to track where campaign donations come from. She also said that corporations are banned from donating to federal elections, but that corporations still find ways to give to campaigns.
Bowser's candidacy was endorsed by the editorial boards of The Washington Post and the Washington City Paper.
Bowser won the Democratic primary with 66% of the vote, to Renee L. Bowser's (no relation) 13%, Max Skolnik's 9%, Baruti Jahi's 5%, Judi Jones' 3%, and Calvin Gurley's 2%. Unopposed in the general election, she was elected with 97% of the vote.
2014 Election
On March 23, 2013, Bowser announced that she would run for Mayor of the District of Columbia in the 2014 election. Her campaign's chair was former council member William Lightfoot.
Bowser emphasized that she can connect with longtime residents concerned about the rapid changes occurring in the District, while still celebrating the changes that had occurred. Bowser disdained business-as-usual and corruption in the District's government. She favored free Metro fares for students. She was against increasing the minimum wage only for employees of large retailers. Bowser was criticized for being too inexperienced for the position with too few legislative accomplishments while on the council and for having a platform that was short on details. She limited the number of debates by only agreeing to participate after the field of candidates had been set, which postponed the first debate until August.
Bowser was endorsed by EMILY's List and the editorial board of The Washington Post. She won the Democratic mayoral primary election with 43 percent of the vote. To raise funds for her campaign she accepted contributions in excess of legal limits, for which she was fined after winning the election.
In the general election, Bowser was on the ballot with Independents David Catania, Nestor Djonkam and Carol Schwartz, D.C. Statehood Green Faith Dane and Libertarian Bruce Majors. No Republican filed. Bowser won the election with 80,824 votes (54.53%) to Catania's 35% and Schwartz's 7%, and took office on January 2, 2015.
Mayor of the District of Columbia
2018 Election
Bowser filed to run for re-election in 2018. James Butler, Ernest E. Johnson, and Jeremiah D. Stanback filed to run against her in the Democratic Party primary election. Ann C. Wilcox filed to run as a D.C. Statehood Green Party candidate. No one filed as a mayoral candidate in either the Republican Party primary election or the Libertarian Party primary election. Noting the nominal opposition and some "stumbles" during her first term, The Washington Post endorsed Bowser's re-election, citing the District's economic prosperity and Bowser's having fulfilled her promise to restore integrity to government. She then won the June 19 Democratic Primary with 83% of the vote, after her most formidable potential challenger, former mayor Vincent C. Gray, declined to enter the race. She went on to win the November 8 general election with just under 80% of the vote against two Independent candidates and one Libertarian.
During the election, Bowser sought to unseat incumbent Councilmember Elissa Silverman, who had frequently questioned the mayor. Bowser endorsed political newcomer Dionne Reeder and provided her with volunteer and fundraising support. Reeder lost by a significant margin and Bowser was not able to deliver a victory in her home base of Ward 4.